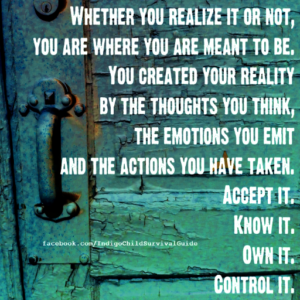 Indigo children – From Wikipedia, the free encyclopedia.  For the 2012 film, see Indigo Children (film).
Indigo children, according to a pseudoscientific New Age concept,[1] are children who are believed to possess special, unusual, and sometimes supernatural traits or abilities.[2] They are sometimes also referred to as crystal children[3] or star children.[4] The idea is based on concepts developed in the 1970s by Nancy Ann Tappe[5] and further developed by Jan Tober and Lee Carroll. The concept of indigo children gained popular interest with the publication of a series of books in the late 1990s and the release of several films in the following decade. A variety of books, conferences and related materials have been created surrounding belief in the idea of indigo children and their nature and abilities. The interpretations of these beliefs range from their being the next stage in human evolution, in some cases possessing paranormal abilities such as telepathy, to the belief that they are more empathetic and creative than their peers.
Although no scientific studies give credibility to the existence of indigo children or their traits, the phenomenon appeals to some parents whose children have been diagnosed with learning disabilities and to parents seeking to believe that their children are special. Critics view this as a way for parents to avoid considering pediatric treatment or a psychiatric diagnosis. The list of traits used to describe the children has also been criticized for being vague enough to be applied to almost anyone, a form of the Forer effect.
The above meme is from "The Indigo Child's Survival Guide" Facebook page.