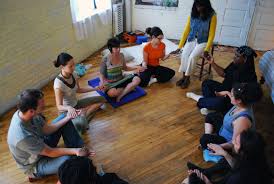 "In some of the early readings for the Edgar Cayce Prayer Group, we find explanations of the basic theory of healing through prayer. Let us examine a few of these statements:
"Each atomic force of a physical body is made up of its units of positive and negative forces, that brings it into a material plane. These are of the ether, or atomic forces, being electrical in nature as they enter into a material basis, or become matter in its ability to take on or throw off. 
So, as a group may raise the atomic vibrations that make for those positive forces as bring divine forces in action into a material plane, those that are destructive are broken down by the raising of that vibration!  This is done through Creative Forces, which are God in manifestation!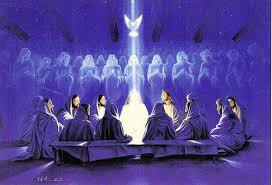 Hence, one may not hear the prayer or the thought sent by an individual whose attunement is not sufficient to raise that vibration in an individual, but the combined – as we have in numbers – may raise (that vibration) to such an extent that the awakening comes by this continuing of this direction of the spiritual forces to an individual; even as the small drop of water may wear away the hardest stone."  Edgar Cayce Reading 281, 3-4
If we reduced this passage to a few words, we might express it thus: Prayer – continued prayer – within a group provides a stronger force than could be accomplished by one individual, and it brings an awareness of the Creative Power within the one who is ill in body or mind."
"Guidelines on Prayer and Meditation for Help and Healing," A.R.E. Prayer and Meditation Services, Virginia Beach, VA., 2007, pg. 1-3.
Also, Matthew 18:20 – "For where two or three are gathered together in my name, there am I in the midst of them."