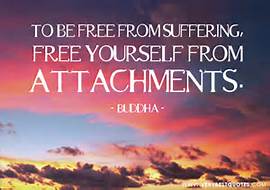 "How can attachment bring us suffering?
We just have to think of chocolate and there is the temptation of eating more than is good for us. Or as example, my favorite story: the way people used to catch monkeys in South India:
One takes a coconut and makes a hole in it, just large enough that a monkey can squeeze its hand in. Next, tie the coconut down, and put a sweet inside. What happens next is pure attachment. The monkey smells the sweet, puts his hand into the coconut, grabs the sweet and … the hole is too small to let a fist out of the coconut. The last thing a monkey would consider is to let go of the sweet, so it is literally tied down by its own attachment. Often they only let go when they fall asleep or become unconscious because of exhaustion.
Ultimately, the Buddha explains that our attachment to life keeps us in cyclic existence or samsara, which does not bring us continuous happiness."                            From – http://www.viewonbuddhism.org