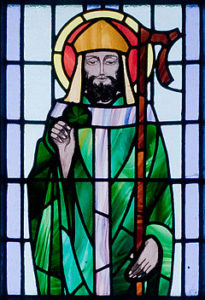 "The Day of the Festival of Patrick" is a cultural and religious celebration held on 17 March, the traditional death date of Saint Patrick (c. AD 385–461), the foremost patron saint of Ireland.  According to tradition, Patrick returned to Ireland to convert the pagan Irish to Christianity. The Declaration says that he spent many years evangelizing in the northern half of Ireland and converted "thousands". Patrick's efforts against the druids were eventually turned into an allegory in which he drove "snakes" out of Ireland (Ireland never had any snakes).   Wikipedia
May The Road Rise Up To Meet You   (traditional gaelic blessing) May the road rise up to meet you.                                                        May the wind be always at your back.
May the sun shine warm upon your face;
the rains fall soft upon your fields
and until we meet again,
may God hold you in the palm of His hand.