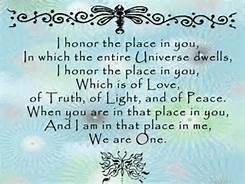 The definition of Namaste (pronounced na, ma, stay) is both a physical gesture and a spoken spiritual salutation, which is the recognition of the divine spirit (or soul) in another by the divine spirit in you.
The word Namaste translates simply to "I bow to the divine in you."
Namaste Gesture
The acknowledgement of spirit to spirit is represented by placing the hands together in front of your third eye (Third Eye Chakra) and bowing your head then bringing your hands down in front of your heart (Heart Chakra).
Performing both the Namaste gesture and saying the word Namaste at the same time can be done when greeting someone, however, in India the gesture alone means Namaste, so it is not necessary to say the word.
Namaste is a very old 3000 BC greeting with the word derived from Sanskrit. The Namaste gesture is widely used throughout India, Nepal, Bangladesh, parts of Asia and beyond where people of South and Southeast Asian origins have migrated. Namaste or namaskar is used as a respectful form of greeting, acknowledging and welcoming a relative, guest or stranger. In some contexts, namaste is used by one person to express gratitude for assistance offered or given, and to thank the other person for his or her generous kindness.
Namaskar is also part of the 16 upacharas used inside temples or any place of formal Puja (worship). Namaste in the context of deity worship, conclude scholars, has the same function as in greeting a guest or anyone else. It expresses politeness, courtesy, honor, and hospitality from one person to the other. It is used in goodbyes as well . This is sometimes expressed, in ancient Hindu scriptures such as Taittiriya Upanishad, as Atithi Devo Bhav (literally, the guest is god).  Namaste is one of the six forms of pranama, and in parts of India these terms are used synonymously.
Source – Wikipedia and Living Words of Wisdom http://www.livingwordsofwisdom.com/definition-of-namaste.html