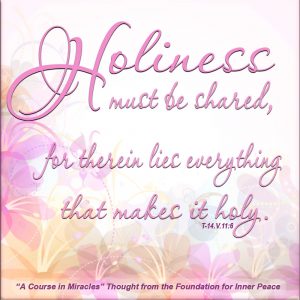 "All separation vanishes as holiness is shared.  For holiness is power, and by sharing it, it gains in strength.  If you seek for satisfaction in gratifying your needs as you perceive them, you must believe that strength comes from another and what you gain, he loses. Someone must always lose if you perceive yourself as weak. Yet there is another interpretation of relationships that transcends the concept of loss of power completely.
You do not find it difficult to believe that when another calls on God for love, your call remains as strong.  Nor do you think think when God answers him, your hope of answer is diminished.  On the contrary, you are more inclined to regard his success as witness to the possibility of yours. That is because you recognize, however dimly, that God is an idea.  And like Him, you can give yourself completely, wholly without loss and only with gain.  Herein lies peace, for here there is no conflict.
The holy instant thus becomes a lesson in how to hold all of your brothers in your mind, experiencing not loss but completion.  From this it follows you can only give.  And this is love, for this alone is natural under the laws of God.  In the holy instant the laws of God prevail, and only they have meaning.  The laws of this world cease to hold any meaning at all."
A Course In Miracles, p. 315, 3 – 5.