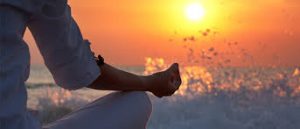 "When man learns that nothing can really harm him, Fear seems a folly.  And when man awakens to a realization of his real nature and destiny, he knows that nothing can harm him, and consequently Fear is discarded.
It has been well said, "There is nothing to fear, but Fear," and in this epigram is concealed a truth which all advanced occultists will recognize.  The abolishing of Fear places in the hands of Man a weapon of defense and power which renders him almost invincible.  Why do you not take this gift which is so freely offered you? Let your watchwords be: 'I AM.' 'I AM FEARLESS AND FREE.' "
Fourteen Lessons in Yogi Philosophy and Oriental Occultism, by Yogi Ramacharaka, 1931, The Yogi Publication Society.