"The Boy Who Knew Too Much," a book written by Cathy Byrd.              http://cathy-byrd.com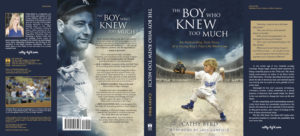 Realtor and mother of two young children, Cathy Byrd, never had aspirations of becoming a writer until an incredible story unfolded before her eyes. Her young son, Christian Haupt, began sharing vivid memories of being a baseball player in the 1920s and '30s. The boy was touted as a baseball prodigy at the age of three (he threw the first pitch at a Dodgers MLB game), and began to recall memories of being the baseball great Lou Gehrig, such as staying in hotels every night.
At the advice of reincarnation researcher, Carol Bowman, Byrd showed photos to Christian, and he was able to identify Gehrig in a photo of the 1927 Yankees team, as well as the correct name of Gehrig's parents from a photo. Psychiatrist Dr. Jim Tucker who has studied children who remember past lives, interviewed the boy at age 5, and Christian told him that he picked out his current parents while in the afterlife state. By the time Christian turned six, his past life memories started to fade, which is what typically happens in such cases, according to Tucker's research.
Now eight years old, Christian no longer has spontaneous recollections of a past life, but he does remember all of the things he said when he was younger. He still loves baseball and plays pitcher and shortstop on a highly competitive travel baseball team that made it to the Pony World Series in July, 2016. Christian has a dream that all people will love each other and realize that we are all the same.  http://www.coasttocoastam.com/show/2017/02/28